Skip to main content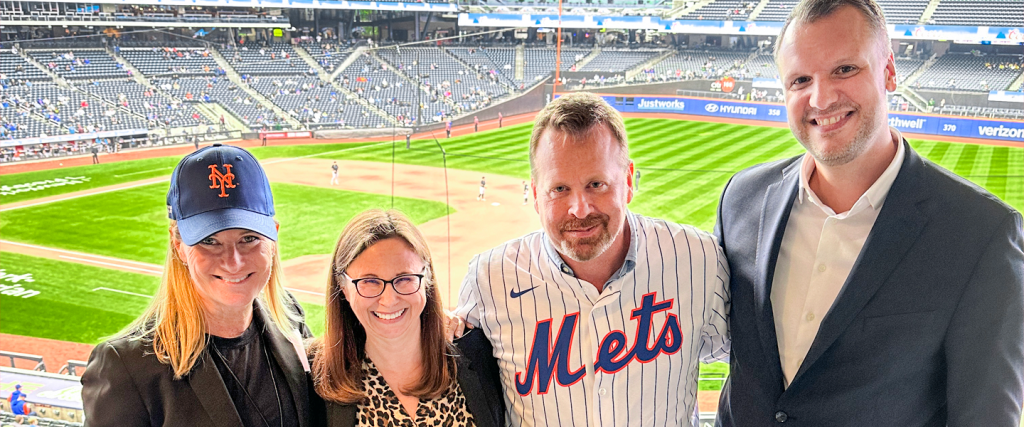 Highlights from the Corporate Traveler New York Customer Event
We're ready to spill the beans about what went down during the last week in September. Our Customer Advisory Group event took over the scene at New York's Citi Field in partnership with BTN. It was a power-packed gathering of the industry leaders in corporate travel, dishing out the latest trends.
The event wasn't all business, though. We dove into everything from business updates to nitty-gritty talks about industry trends and how they're shaking things up for SME travel managers and even took in a NY Mets game for a special treat.
The grand kick-off and business breakdown
Charlene Leiss, President at Flight Centre Travel Group Americas, set the stage. She gave us the inside scoop on the Corporate Traveler business and important updates. She introduced our clients to John van den Heuvel, the new President of Corporate Traveler, who laid down his vision for the future.
Hot trends and gossip in the biz travel world
Jen Bankard, Content Solutions and Conferences Senior Director at The BTN Group, dished out the latest scoop on small and midsize travel programs features in Business Travel News. Her presentation gave us a backstage pass to the ever-evolving landscape of corporate travel.
Here are some juicy takeaways:
Small business travel is categorized as $2 million or less in spend, while midsize plays with numbers from $2 million - $15 million.

Hold onto your hats! Over half of SME businesses are flying solo without a dedicated travel manager. A third of them are juggling travel duties along with their day jobs.

More cash for travel doesn't always translate to more trips. Inflation and the cost of travel compared to 2019 are big players.

Most survey respondents are keeping it tight with a managed approach to travel, and only 16% are keeping it chill with a lightly-managed approach.

Companies are stepping up their game in taking care of travelers (think Uber For Business instead of car rentals) while still keeping things in check.

July 7, 2023, was a record-breaker with a whopping 134,336 commercial flights, according to FlightRadar24.

The airline world is buzzing about the number of carriers. They're adding routes and ordering more planes. The good news for us corporate travelers? Flights aren't taking off at full occupancy as frequently. More options mean more flexibility when disruptions happen.
A panel chat on the hottest trends in the biz
Jen Bankard led a lively discussion on three key topics fresh from the week's hottest industry news stories. Charlene Leiss and John van den Heuvel, alongside Michael Laumanns, VP Global Corporate Clients & Strategy @ Accor, gave us the lowdown on what it all means for travel managers. We got a backstage pass to the relevant events shaping the industry.
They dug into:
A new report covering the purposeful business traveler (Accor and SKIFT).

The shift from ROI to ROE (return on expectations).

How the pandemic has changed the game. Business travelers are all about maximizing their trips instead of jet-setting for quick trips.
Other insights that were discussed included:
ARC: August Air Trips Highest Since Pandemic- Business Travel News, September 21, 2023
"The positive travel trends for August matched what we're hearing from the largest airlines regarding the strength of travel demand. Travelers continue to take advantage of lower airfare, particularly in the U.S. domestic market." - Chuck Thackston, Managing Director of Data Science and Research, ARC
New Report: Exploring the Rise of Purposeful Business Travel
Skift, September 25, 2023
"Demand for business travel is back, with forecasts indicating continued increases in business travel spend. Business needs travel, and its value is undeniable, but the how and why of business travel has never been such an important question to explore. Understanding and evaluating the purpose of a trip has become more important than ever." -Karelle Lamouche, Chief Commerical Officer, Premium, Midscale and Economy Brands, Accor
American, Canadian Hotel Orgs. Prep JV to Bring Green Key to US-
Business Travel News, September 19, 2023
"Increasingly, business, group and leisure travelers want to know they're staying in a hotel that shares their commitment to protecting the environment." -Susie Grynol, President & CEO, Hotel Association of Canada
Accenture to Pilot Cytric Easy AI-Powered Chatbot-
Business Travel News, September 25, 2023
"When fully realized, business travelers will be able to book trips with even greater ease, saving time." -Rudy Daniello, EVP, Amadeus Cytric Solutions
Corporate Traveler USA Names Van den Heuval President
Business Travel News, September 15, 2023
"Our rising markets of Seattle, San Diego, DC, Philadelphia, Atlanta, Nashville and Miami will see us moving into five regions in the next two years, and we'll continue to grow our team of strong, skilled consultants and sales professionals who are specialized in dedicated travel services of start-up, midmarket and SME customers." -John Van den Heuvel, President, Corporate Traveler

 
SME Travel Managers spill the tea on what matters most
In a dynamic panel discussion hosted by Jen Bankard, SME travel managers let us in on the trends shaping their travel programs. Attendees voted on their faves using Corporate Travel brand-colored cards.
Topics included:
Traveler Satisfaction vs. Duty of Care

Managing Costs vs. Traveler Wellbeing/Preferences

TMC self-service capability vs. NDC Connectivity

Team Travel vs. Customer Facing Travel

Self-service vs. Agent Assist

Loyalty Programs vs. Cost Savings

RFP vs. Continuous Sourcing
The majority of attendees preferred the window seat while their travelers leaned towards the aisle. When it came to managing costs versus traveler wellbeing/preferences, it was a close call, but costs snuck in for the win. Team travel and customer-facing travel had the room split down the middle.
The educational sessions wrapped up with Brenden Mallette, Strategic Vice President @ The NY Mets. He gave us a unique perspective on sports-industry travel, and we got the inside scoop on the partnership between Corporate Traveler and the NY Mets.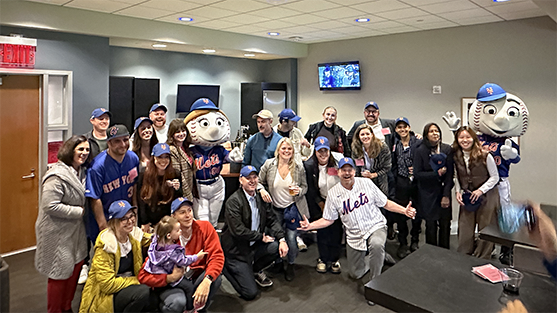 Ending the event with a Corporate Traveler & New York Mets experience
To top it all off, our attendees got a taste of the VIP Mets experience thanks to our special partnership. We always like to show our clients some love, and this was a real home run.
Overall, the Corporate Traveler NY CAG proved to be a thought-provoking and informative gathering of industry leaders, experts, and travel managers. The discussions on industry trends and the priorities of SME businesses provided valuable insights for navigating the ever-changing world of corporate travel.
We can't wait for the next one!