Skip to main content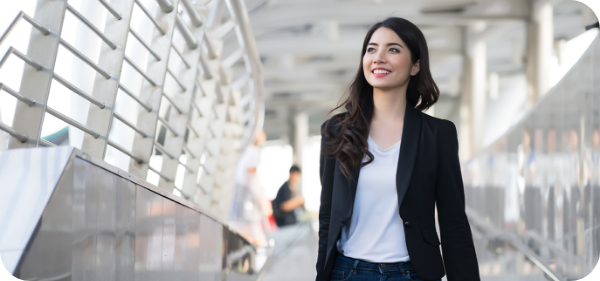 10 essential tips for the first time business traveler
About to head off on your first business trip and not sure how to act or what to do?
From packing like a pro to working and working out — we've got the top tips to help you master it all! Just sit back, relax and read on to get ready for the first of many corporate adventures. 
1. Pack like a pro
 One small carry-on case, perfectly packed, gliding through security like a head of state. This should be your goal. Get a good-quality carry-on case, pack light and use packing cubes. Beat the immigration queue and go straight to your meeting – time is money. And as retro as it sounds, a notebook and pen may come in handy. 
2. Coming and going
First time business travel can make you nervous, and you might forget important details. International travelers need a current passport with at least six months until expiry. And there's more. Do you need a visa or other authorisations? Do you have the right type of visa for business travel? There are many potential paperwork disasters lying in wait at immigration. Lucky for you, your dedicated agent knows it all.
3. Got cover? 
Before you take to the skies, check travel insurance off your list of to do's. Whether it's a short trip or a long one, on a first business trip, we want to make sure you're covered. 
Money may not buy happiness, but it can get you an annual policy – saving you time, money and a whole lot of headaches down the road – did we mention it's tax deductible too?  One last thing, don't forget to scope out the risk landscape of your destination to make sure it's in policy.  Questions? Your dedicated Travel Consultant is in the wings. 
4. Lounging around
Airline lounges can reduce the stress of flying and lift you out of the chaos and noise of the main concourse. Walk into peace and quiet, showers, decent food and drinks for free (hello morning mimosa!). Business Class fares generally include lounge access but some are available for a fee. There is no better place to be if you're riding out a delay.
5. Going long haul
If you're traveling to a different time zone, try to sleep in the night-time of that zone prior to take-off. Body clocks are hard to reset and it's better if you can do this on the flight. While sleeping in Economy Class can be a challenge, earplugs and noise-cancelling headphones may help. If your business meeting is crucial, stumping up for a Business Class fare could be the game changer you need. 
6. Downward dog in the air
Need some Namaste a thousand feet in the sky? There are yoga and exercise workouts you can do in your seat. At least get up and walk around and stretch every so often. And be aware that it is not easy to work in Economy Class. If you plan to prepare for your business meeting on the plane, know that you will be cramped and regularly interrupted. Most important of all, stay hydrated (preferably with water, not booze)
7. Know how to get some SWAG (stuff we all get) 
If you want to roll into your next hotel looking like an A-lister, you need to develop your relationship with the companies you travel with. Your dedicated Travel Consultant will have the tips to get your discounts and upgrades happening faster than a Tik Tok viral video making the rounds. 
8. At what cost?
A greasy burger or glazed salmon with a white wine jus? Limo, hire car, taxi or bus? Veuve or VB? Make sure to check with the boss before you travel on what you can charge up, rather than return to a frosty reception and a bill you have to pay. Retain all your receipts and make a note on them if they're obscure, like a taxi ride. 
9. Work and work out
It's easy to go from meetings to drinks to dinner to bed and repeat. It's important you keep a check on your mental and physical health while you travel. Find time to sweat in the gym, do some laps in the hotel pool or walk to a local attraction. Your mind will be clearer and you'll look and feel fresher. 
10. Don't be THAT guy 
When you travel, you're either representing your company or yourself. And your country. Know the local laws, be courteous and tip when needed. Pro tip: watch what you eat. It may be fun to experiment on the deep fried meat from a street food vendor but you are here to work – why take the risk? Stick to bottled water in some destinations and avoid ice if you can.
Still feeling nervous? That's ok!
Fill in your details below, and we'll contact you to help you feel more confident as you head out on your first business trip.