Skip to main content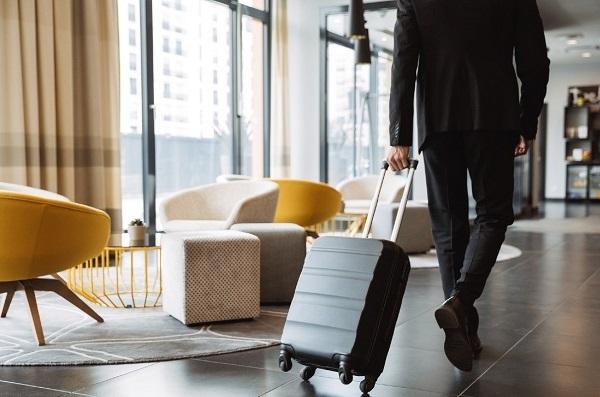 Navigating the New Normal: Trends in Fragmented Accommodation for Business Travelers
The landscape of business travel changes quicker than the seasons, and one trend has emerged as a game-changer: fragmented accommodation.
The days have passed since business travelers were confined to booking traditional hotels. In today's world, choice, flexibility, cost savings, and a personalized experience that aligns seamlessly with the modern traveler's expectations is key.
At GBTA Dallas Convention 2023, our moderator, Cheyenne Randolph, Customer Success Team Leader @ Corporate Traveler, spoke to panelists Yon Abad, VP Suppliers & Distribution @ Flight Centre Travel Group, Gus Vonderheide, VP Global Sales @ Hyatt, and Ches Goodman, Minor League Travel Assistant @ NY Mets, about the evolving needs of business travelers, and the rise of alternative accommodations.
Our big takeaways from this session were:
Allowing bleisure in your travel policy is an asset for hiring & retention. ​

Bleisure can help your business meet your vendor contract quotas & maximize the investment.​

Work with your travel team to incorporate a policy that excludes additional costs (extending on a weekend, additional family members, etc.) from business expenses and reporting.​

Ensure you have a duty of care plan for any accommodations not booked with your TMC.​
Travel trends have changed; are hotels keeping up?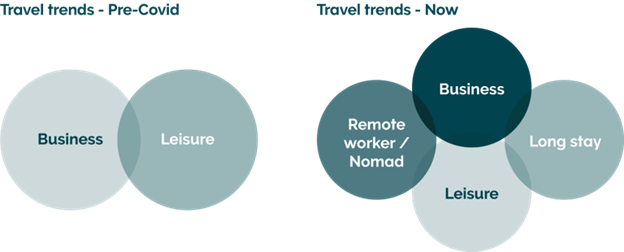 The rise of platforms like Airbnb, Vrbo, and Booking.com has revolutionized how travelers book accommodations for their business travel. Business travelers can access various accommodation options through these platforms, from chic city apartments to cozy countryside cottages.
This trend has transformed business trips into unique, localized experiences, allowing travelers to integrate themselves into the culture of their destination.
When faced with these options, travelers are encouraged to combine vacation time with their business trips, driving "bleisure" or "blended" travel to new heights. They're bringing their families, pets, friends, and enjoying that home-away-from-home feeling.
The pivot to serviced apartments
Serviced apartments provide the best of both worlds: the comforts of home and the conveniences of a hotel. These accommodations often come with housekeeping, concierge service, dining options, and space to work and relax. This trend is particularly beneficial for business travelers looking to balance work and leisure during their travels.
Many hotel chains, like Hyatt, saw this as an opportunity to pivot and launched their brand Hyatt House.
Bleisure travel - is it a win/win/win for businesses, travelers and accommodation suppliers?
The general consensus is "yes".
As business travelers adjust their needs and wants, hotel suppliers can offer new services and revenue chains. In longer-stay accommodation, a traveler might opt for fewer housekeeping visits, purchase from an on-property market or dining option, etc., which drives more revenue.
The travelers benefit from increased accessibility and service offerings, and suppliers can invest in diversifying their portfolios to fit. Win. Win.
But what about businesses?
Building blended travel into your company travel policy isn't just good for business. It's good for retention and to attract new talent. Flexible work environments and international working opportunities are increasingly attractive to prospective employees. Win. Win. Win.
Blended travel - who foots the bill?
Depending on the nature of your business, you might have it built into your policy that the company will take care of all the costs of long-term travel for business for your employee, and the cost of family members might fall on them. Or maybe the traveler is responsible for a portion of the accommodation on non-workdays and any additional travel in between.
Whichever way you choose to work it out, building the terms into your travel policy will make it crystal clear who covers what.