Skip to main content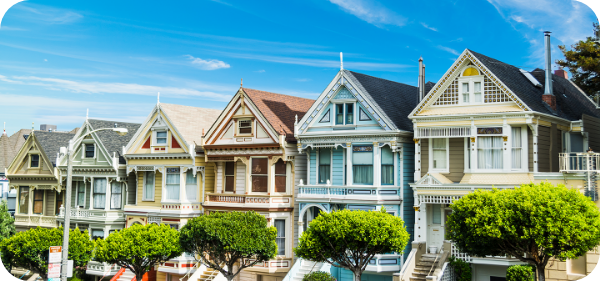 Everything you need to know about The Golden City, San Francisco
Culturally diverse with a highly intellectual business community, San Francisco is at the forefront of developing new tech. Whether you're in the ever-iconic Silicon Valley with Facebook, Google and Apple or following the likes of Twitter, Zendesk and Airbnb to downtown San Francisco, the city boasts quite the selection of tech royalty.
With cable cars, the Golden Gate Bridge, Alcatraz Federal Penitentiary, neverending hills, and Fisherman's Wharf, San Fran is a hella great place to live and work (add hella to your vocabulary, you'll be hearing it a lot). With a thriving population,  you'll find career-defining opportunities around every corner.
What San Francisco has to offer
Connect with A-list tech companies in Silicon Valley by taking unique tours and immersion programs at the SVIC (Silicon Valley Innovation Centre). Not a tech aficionado? They also run innovation programs for banking, transport and business models.  
It's also worth checking out Google's Acceleration Program which supports start-ups in creating products that live up to Google's standards. On top of all the business perks, this program gives you access to a range of tech gatherings where you can network to your heart's content.
Speaking of networking, StartUp Digest holds plenty of tech start-up events based in both Silicon Valley and the San Francisco Bay Area. For regular networking events that connect a mix of business industries in and around the city, hit up the San Francisco Chamber of Commerce.
What's where
The greater metropolitan area of San Francisco is known as the Bay Area. This is where you'll find all the landmarks and city vibes that San Fran is famous for. 
For the main business district within the Bay Area, make your way to Downtown San Francisco. You'll find towering skyscrapers, some of the city's tallest buildings like the Transamerica Pyramid, and the renowned Montgomery Street, or the "Wall Street of the West". For business travelers, you're probably going to find yourself heading Downtown at some point on your trip.
Touching Down in SFO
San Francisco county is so big it needs three airports: San Francisco Airport, Oakland International Airport, and The Norman Y Mineta San Jose International Airport. Let's break down their best features.
San Francisco Airport – SFO
San Francisco Airport (SFO) is the largest of all three, only 21km (13 miles) from downtown San Francisco.
As innovative and modern as the city it lives in, this airport has its very own museum as well as a yoga room in Terminal 2. The perks don't stop there. SFO is teeming with top-notch facilities at every terminal to ensure smooth and efficient travel.
Ready to hit the town? The AirTrain is San Francisco Airports' transport shuttle - free of charge. It connects with both the domestic and international terminals including the BART (Bay Area Rapid Transport) - AKA the only train link running from the airport to the city.  
There's also SamTrans, a public bus service that will take you directly to The Peninsula, Downtown, and Palo Alto just to name a few.
San Francisco is Uber's home town, so ridesharing is always on offer. To get from the airport to the financial district you're looking at a fee of $30-40.
Oakland International Airport
Coming in as second busiest to SFO, Oakland International Airport is actually closer to the financial district. It's also connected to the BART service as well as AC Transit bus services and Jayride shuttle services. As always, Uber is an easy option.
Being on the other side of the San Francisco Bay itself, Oakland is the ideal spot to land if you're traveling to the beautiful national parks.
Norman Y Mineta San Jose International Airport
Doing some business in Silicon Valley? The Norman Y Mineta San Jose International Airport is your best pick.
This airport is much smaller than Oakland and San Francisco, however, it recently underwent renovations which are giving it a whole new rep. Previously considered just a traveler hub, the addition of new restaurants and eateries is raising its status.
If you're keen to get straight into business, this is where you'll get quick access to Silicon Valley.
On the move
For super-efficient public transport, you can't go past the San Francisco Municipal Railway Public Transit System. Known as SF Muni for short, this organisation is in charge of transit, streets and taxis, giving you everything you need to walk, drive, ride, or Muni your way around the city. This includes buses, rail, historic streetcars and cable cars too, not to mention the greenest taxis country-wide.
When traveling with Muni, a single adult fare is just $2.50. You can also buy a Clipper Card which will help you get anywhere within the Bay Area via Muni or cable cars or buy tickets instantly on the MuniMobile App.
What you need to know
Currency: USD
Language: English
Time Zone: GMT-8
Electricity: 110 to 115 colts, 60Hz AC
Dialling Code: 415
Business Visa: "While for citizens of most countries, a valid visa is required to enter San Francisco, citizens of 'participating countries' are eligible to enter for a period not exceeding 90 days for the purposes of tourism or certain unpaid business activities without a visa under the 'Visa Waiver Program' (VWP). Although you will need your eligibility confirmed through an online process known as ESTA (Electronic System for Travel Authorisation)."
Business in San Francisco: 101
The business culture in San Francisco is super relaxed. In saying that, there are still a few rules worth knowing.
Be Punctual
Try not to organise meetings during peak times, aim instead between 10am and 3pm. Make sure you always take into consideration traffic delays; San Francisco is a bustling city.
Time is Money
Time is valuable to San Franciscans. They value their work/life balance, so keep that in mind when making a meeting time. Be prompt and timely with any correspondence and refer to any business via your own networks.
Dress Code
San Francisco weather is cool all year round, including in summer. Work attire is still a well-cut suit for those in the law and financial sectors. For other careers, you can usually get away with a more relaxed style.
Your home away from home
A stay in San Fran's best hotels might set your budget back but it's so worth it. Here are our top picks for business travelers.
Boutique Hotels
Phoenix Hotel
Experience a little piece of eclectic San Francisco at Phoenix Hotel. Originally a haven for traveling musicians, it sits in the heart of downtown San Francisco at the cross-section of Tenderloin, Civic Centre and Little Saigon districts.
Each room includes a work desk, free Wi-Fi, retro decor and 24-hour communication with the front desk. The big drawcard is the pool that's heated all year round - you can even opt for a poolside suite. 
San Francisco Proper
Step back in time into 1920's Paris at the San Francisco Proper. The walls throughout the hotel are dotted with exquisite Mid-century modern art which extends to the rooms. A visit to Charmaine, the rooftop bar, and a meal at the hotel restaurant Villon are both well worth it. The hotel even sends texts before your arrival so they can ensure everything is in place for your stay.
Located close to BART with the closest main landmark being the Civic Centre, this art deco treasure puts you in the centre of all the action.
Hotel Del Sol
Recently renovated and furnished with 1950's inspired décor is Hotel Del Sol. If you're looking to slow down a little and avoid the fast-paced scene of downtown San Francisco, this is your best bet.
Hotel Del Sol oozes coolness, and while in a quieter part of the city, it is still a vibrant, happening place. Make the most of the saltwater pool, bright and breezy rooms and a great choice of meeting venues close by.
4 & 5 Star San Francisco Hotels
Fairmont Heritage Place
Overlook the San Francisco Bay from your generous apartment-style room at Fairmont Heritage Place. This first-class hotel is on a bus line, making travel within the city easy. It even includes amenities like bikes.
Double Tree by Hilton, Berkeley Marina
Looking to stay in the East Bay area? Double Tree is our best pick. The 378-room hotel boasts views of the bay and Berkley Hills. Unwind after a busy day of meetings at the fitness centre or grab a stiff drink at the Bay Lounge at sunset.
Grand Hyatt San Francisco
Centrally located and close to Union Square and Chinatown, you'll find the Grand Hyatt. Expect tastefully appointed rooms (all 662 of them) that are comfortable and quiet with reliable Wi-Fi.
Courtyard San Francisco Fisherman's Wharf
The Courtyard is known for spacious rooms and friendly staff who go above and beyond for their guests. The hotel includes flexible spaces to work and a 24-hour business centre - perfect for corporate travelers. Become a Marriott Rewards Member for extra services and perks.
Hit the town
Hosting an after-hours business meeting? Below are just a few of San Francisco's finest dining options and trendiest bars. FYI: the legal drinking age is 21 and alcohol can be served until 2am.
San Francisco Bars
Trick Dog
Think seasonal menus, unique cocktails, and collaboration from San Francisco's best chefs. Trick Dog gives off speakeasy vibes complete with a hidden entrance and moody ambience.
Urban Putt
Discuss business strategy over a few rounds of golf at Urban Putt. It's the only San Francisco bar that comes complete with a playable miniature golf course. Each hole has its own artistic design and theme, offering a lighter approach to your next business meeting.
ABV
On the hunt for the perfect Mumbai Mule? ABV serves up an extensive list of beloved and bespoke cocktails. Only a short drive from Union Square, expect epic cocktails, an edgy vibe, and delicious snack fare.
San Francisco's Top Restaurants and Eateries
Bon Voyage
Make your business meeting better with delicious pillowy dumplings and one hella cocktail menu. With cocktail names like Bay Wolf, Blue Caterpillar and Ooty Club, Bon Voyage serves up casual/fun vibes with quality drinks to match.
Radhaus
More of a beer connoisseur? Radhaus has plenty to offer. Pair your brew with German classics like Chicken Schnitzel and Bratwurst while you enjoy impressive views of the Golden Gate Bridge at sunset.
Sorrel
If your meeting calls for a dash of sophistication and elegance, Sorrel will do perfectly. Located in a quieter part of the city, this fine-dining hotspot won't disappoint with its drool-worthy al-a-carte menu and extensive wine list (this place is wine only). Order the truffle pasta and thank us later.
Where to get the job done
Being the home of so many tech innovations, social enterprises, and start-up businesses, it's no wonder San Francisco's co-working game is strong. Here are our top picks for your roaming office.
Workshop Café
Serving up next-level coffee, Workshop Cafe is known for its industrial style, speedy Wi-Fi and functional furniture. Close to the financial district this coworking space is ideal for any business meeting.
Bespoke
Bespoke focuses more on retail tech professionals, located in a large San Francisco shopping centre. This space comes complete with a bouldering wall, bocce room, library and a sleeping nook - perfect for mixing work and play.
Rocket Space
For a space that caters to tech start-ups, head to Rocket Space. They run corporate pilot programs to help start-ups increase brand exposure and connect with industry leaders. To make industry connections, come here.
For support and more info get in touch with your dedicated Corporate Traveler Travel Manager for all the details. Let's chat.