Skip to main content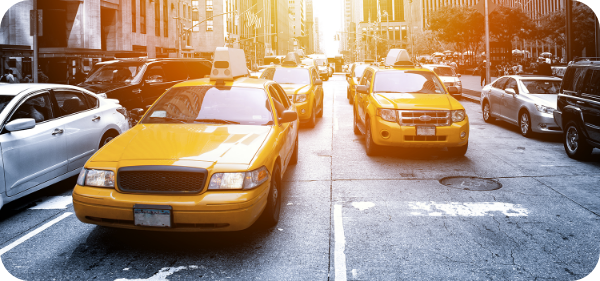 Business traveler's guide to New York
New York is a world of its own, with businesses and people from all over. With so many HQs located in the city, chances are, you'll end up doing some traveling there for business.
But with a population 18 million strong, navigating this concrete jungle isn't always a walk in Central Park. So, if you're looking for tips to make business travel to New York a breeze, walk this way!
The BIG apple
Here's the thing: New York is big. Really big. You have the Bronx to the north, Staten Island resting against the New Jersey border to the west, and Brooklyn and Queens sitting a subway-ride away to the east.
But for a business trip to New York, you'll find everything you need in cosmopolitan Manhattan. Home to Broadway, Times Square and Central Park, it's also the financial centre of the world. Seriously – we're talking a GDP of over US$1.55 trillion. In Manhattan, you'll be rubbing shoulders with top-notch lawyers, accountants, marketers, creatives and experts from pretty much any field imaginable.
Finding your feet
Once you've narrowed the big apple down to Manhattan, it's time to find your way around. Streets are numbered from south to north, making a grid with similarly ordered avenues running east to west. This perfectly planned grid - with Central Park fittingly in the middle - is your key to navigating the city. If you're lost (or running late to a meeting), simply use the street signs as a guide to your destination. Everyone's a winner.
Touch down
Flying in? New York has not one, not two but three main airports: John F Kennedy, LaGuardia and Newark. This city doesn't do anything by halves.
John F Kennedy Airport
JFK is one of biggest and busiest airports in the United States. In fact, it's so large that rather than an address, this southern area of Queens in not-quite-Brooklyn has its own zip code.
With its sheer size in mind, your biggest struggle will be the infamous immigration lines. 
With a large variety of international airlines, 'low peak' isn't really a thing at JFK. Still, you can choose a flight that lands in a sweet spot. If you can't find a lull in schedules, dodge delays by picking a flight that lands before an incoming convoy. Getting a ten minute lead on the four flights chasing your tail can save you hours standing in line. Boom.
Once through immigration, you'll be a US$60 Uber ride into the heart of Manhattan. To avoid wearing out the corporate credit card, take the AirTrain to either Howard Beach or Sutphin Boulevard Station for just US$7.50. From here, you'll be connected to New York's subway system that will guide you to your hotel. But be warned: you'll be hauling your luggage up hundreds of stairs that accompany NYC's Subway.
LaGuardia Airport
If New York's famous for style, then being 'fashionably late' derived from LaGuardia airport. Notorious for its delays and cancellations, this airport might not be the best for business travel to New York if you're short on time.
Luckily, it mainly serves short-haul, domestic trips, with very few west coast flights from LA or San Francisco landing here. But if you're flying via a changeover in Dallas or Chicago, best double check your itinerary with your dedicated Travel Manager and plan accordingly. If it's absolutely unavoidable, best allow an extra day's travel time to be on the safe side.
Once you pass customs though, getting to Manhattan is a breeze. Roughly 18 kilometres from Times Square, an Uber trip will only set you back US$30.
Newark Airport
The best and worst part about Newark Airport? It's in New Jersey, no offence to New York's westernmost neighbour.
Still, Newark is only 25 kilometres from Manhattan, just a quick trip beneath the Hudson River through the Holland Tunnel (traffic pending, of course). But just like JFK and LaGuardia, it's well connected by public transport if you're looking to save on those taxi fees.
Going underground
Taxis and Uber are fine when you're fresh off the plane and not in the mood to battle public transport. But using it regularly in a city like New York? You'll meet gridlock traffic and a constant hum of car horns filling the rows of busy streets.
The cheapest, most efficient way to get around this jungle of skyscrapers lies underground, in NYC's famous subway system.
Although overwhelming to begin with, New York's subways are surprisingly easy to navigate. With the below pointers, you'll be riding the subway like a pro in no time.
Subway Fares
No matter if you're traveling from Staten Island to Queens or Lower Manhattan to the Upper East side, you'll pay a flat rate of US$2.75 with a city Metrocard. You can pick up a MetroCard at the airport, in subway stations' vending machines or selected corner stores. Simply load your card up and ride the subway to your heart's content.
Although the subway map looks pretty complicated, you can check out the MTA trip planner before you leave your hotel. This way, you'll have a direct route to wherever you want to go, including where to transfer and when.
Subway like a local
Allow for about an hour of delays when traveling by subway. Yes, there's a theme here. Delays happen in New York, and despite being the most reliable mode of transport, NYC's subways still fall victim to them. If you're aiming to be 15 minutes early to a meeting, try leaving an hour earlier than the MAT journey planner states. At worst, you have extra time to explore the nearby neighbourhood, with the peace of mind that you're ahead of schedule. Everyone's a winner!
The suite life
Hilton New York Fashion District
Did someone say chic? Hilton New York Fashion District is located in the heart of, you guessed it, the Fashion District on West 26th Street just off 7th Avenue. It's just steps away from the city's best dining and attractions with easy access to Penn Station, but if you don't want to move far, this hotel offers a full range of services from a restaurant and rooftop cocktail lounge to fitness and business centres.
AKA Wall Street
For a luxe apartment in the Financial District check out AKA Wall Street. The great Downtown location puts you in the centre of world class cultural, dining and shopping experiences as well as a new public transport hub which makes getting around a breeze. These spacious apartments are designed for longer stays with each room complemented with residential amenities. Just like the Hilton, full-service hotel offerings are also available including a private cinema. It's the suite life.
11 Howard - Soho
If you're searching for the perfect boutique hotel for your New York business trip, then look no further than 11 Howard. Nestled in the heart of Soho, 11 Howard embodies the ultra-modern vibe you'd expect in this buzzing area of Manhattan.
Known for their 'thoughtful hospitality', guests can find every detail accounted for - from their careful selection of tasteful art pieces, the intentionally laid out suites, to the many amenities included. They even have their own co-working space, where you can set up office for the day in the chic, café-style 'Library'.
1 Hotel - Brooklyn Bridge
Just across the East River lies the luxurious 1 Hotel. With a direct view of Brooklyn Bridge, you'll be outside one of New York's most iconic sites, while just a short walk from happening Manhattan. Designed by local artists from reclaimed materials, this eco-conscious boutique hotel is a fresh escape from bustling Manhattan. With a variety of spa treatments and an on-site gym, choosing 1 Hotel is great for business travelers wanting to unwind after a hard day's work in NYC.
Sixty Hotel - Lower East Side
Few hotels balance luxury with minimalism like Sixty Hotel. With spectacular views of the skyline, indulgent rooms and suites, and a spa and pool to relax by, the Sixty Hotel ticks all the boxes. Best of all, you'll be in the Lower East Side, perfect for business and leisure alike.
A New Yorker's Schedule
New Yorkers are FAST.
They talk fast. Walk fast. Eat fast. And most importantly - they conduct business fast. To a New Yorker, darting from point A to B in record speed isn't just a matter of urgency; it's a way of life.
Even if you can strut down 6th avenue like a local, finding a spot in a New Yorker's calendar can be a mission in itself. Luckily, there are a few ways to make an impact in the 'capital of the world.'
Try meeting in the mornings
No surprise, the city that never sleeps houses the world's largest population of early birds. This morning window is a great way to score quality time with clients before their day-to-day madness ensues.
As NYC isn't the most conventional city, why not incorporate their morning work-out and hold a walking meeting by the Hudson River? Or perhaps change up their morning coffee ritual and try one of Manhattan's best cafés.
Plan your trip around conferences and networking events
With their over-flowing calendars, New Yorkers are a lot less forgiving with their time. This makes connecting with the right people more important than ever.
A great way to save time is finding your tribe through key industry events; meeting with a highly engaged audience that won't whisk you through your hard-thought presentation or business idea. 
Even if they're not potential clients, getting contacts and scoping out the business-scene first-hand can start your business trip on the right foot. A great place to start is the Manhattan Chamber of Commerce, where you can network like a local at their many breakfasts and events.
Top notch nosh
If there's one thing that rings true in New York's business culture, it's that deals happen over meals. Yes, this little nuance of New Yorker-ness means having a list of restaurants that suits a variety of clients. So, let's get straight to the good stuff and check out some of NYC's best restaurants.
King Restaurant
Dining to impress? The aptly named King Restaurant fits the bill (albeit, quite a sizey bill at that). Located on 6th Avenue, King's modern, French-styled menu changes daily, keeping even a Manhattan local on their toes. From decadent duck confit during the day to mouth-watering lobster dishes in the evening, their simple but classic food is a highlight to travelers and locals alike.
If you're looking for a more intimate feel, take advantage of King's semi-private bar room. Here your group can enjoy a sophisticated 3-course meal, experiencing some of the best French cuisines Manhattan has on offer. But best book ahead of time - this Midtown gem is in high demand.
Le Relais de Venise
If you're after a more down-to-earth affair, then you'll feel right at home at Le Relais De Venise. With franchises in Soho and Midtown Manhattan, this understated steakhouse comes with a set menu, perfect for business travelers on the go.
Don't let its simplicity fool you, though; this gem is still a class act with an elaborate wine menu. With your hardest decision choosing from rare to well done, you can focus more on the task at hand, knowing your beautiful cut of steak is moments away.
L'Express
What would the city that never sleeps be without a classy, 24-hour restaurant? From escargot for brunch to mussels at midnight, this French-styled bistro is the perfect suggestion for a hard-to-tie down New Yorker.
Shaken or stirred?
Want to keep your meeting light? Perhaps swapping the fancy, white-linen tablecloths for a drinks menu is the way to go; you'll get to take in the stunning skyline from rooftop bars that are so 'New York'. Business travel never sounded so good!
Public Bar
Whether you want to be productive over coffee or network the night away, few places rival the electric Public Bar in Lower Manhattan. With plenty of power outlets, a speedy WiFi connection, and a cocktail menu to suit any taste, Public's Lobby Bar is the ideal place to collaborate in a more casual setting. Once the hard work's over, head up to 'The Roof' and take in panoramic views of the city's nightscape.
Refinery Rooftop Bar
Urban chic meets New York glam at Midtown's Refinery Rooftop bar. Popular with both travelers and locals, you'll feel right at home at this fashionable rooftop bar. With handcrafted cocktails, a direct lookout to the Empire State Building, and a retractable glass roof, this Manhattan treasure is suitable year round.
The Press Lounge
The Press Lounge mimics the effortless class of Manhattan while expressing the understated simplicity of greater New York. Picture spacious, private lounges scattered easily throughout the room, ceiling-high window panes framing views of the Hudson River and Manhattan skyline, and a glamorous terrace balcony providing the perfect meeting ground for all who visit.
If you're looking for a secluded place to chat business, without taking away the fun, then the Press Club is the place to be. After savouring the view, sipping a seasonal cocktail or sharing a bottle of local New York wine is a sure-fire way to impress whoever you bring along.
A great NYC business trip comes down to good planning, good intel and a good attitude. After all, business travel to New York is like no other. This grand metropolis is all about experiencing the unexpected, immersing yourself in its dizzying diversity and soaking up all the vast opportunities on offer. So, what are you waiting for?
Heading to NYC for your next business trip?
We can get you there!