Skip to main content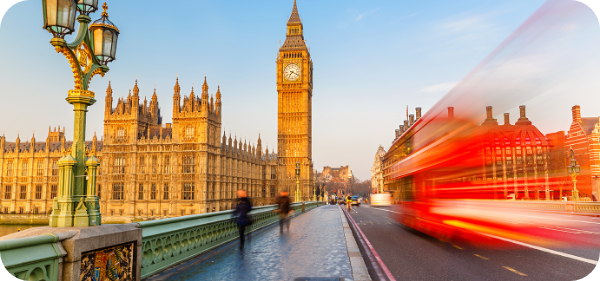 Business traveler's guide to London
Heading to London on your next business trip? We've got you covered.   From the City's skyscrapers and the luxury of Kensington to the buzz of Soho and Shoreditch, the British capital is one-of-a-kind. So if you've booked your flight and are looking for tips for traveling to London, grab a cuppa and let's go!
Touch down
Arriving at Heathrow or Gatwick airport? Traveling to London couldn't be easier; simply hop on the Heathrow or Gatwick Express trains that run every 15 minutes. And it's not a myth - the Brits really do love waiting in line - so download the Express services' apps to get your hands on a mobile ticket and stroll right past the station queues. Boom.
These Express trains will then take you to Paddington or Victoria stations, and from here the rest of London is your oyster. No, really. Make sure to pick up an Oyster travel card when you arrive, or use your contactless bank card, and you're just a tap and a bus or tube journey away from anywhere in London. Bob's your uncle.
A room with a view
Check it out! Business travel to London can be done in comfort and style.
 After a long day traveling or in business meetings, you deserve a good night's kip. Only the best of the best for you, we recommend the Sofitel London St. James, a 5-star hotel in the heart of London. London charm and comfort, what more could you ask for? In search of something more modern? Look no further than Hilton London Tower Bridge, offering a great location and cool digs. 
Eat like a local
It may be the home of marmite, but don't believe everything you've heard about British food. Afternoon tea is as British as they come, and the Berkeley Hotel serves the most stylish afternoon tea spread in town. Inspired by the latest looks from London Fashion Week, past menu items have included cakes inspired by Manolo Blahnik stilettoes and Tory Burch bikinis.
Take your business dinner to the next level and head to Spring at Somerset House for elegant, fuss-free cuisine from Aussie chef Skye Gyngell. If you like your food spicy, Mayfair's Michelin-starred Gymkhana offers some of the best inventively updated Indian classics in town.
Got a spare hour?
Our number one tip for business travel in London? Find a spare hour to explore. Two, if you can fit it in. The city is so packed full of world class museums, galleries, theatres and iconic sites, that we promise you won't regret it!
At the Tate Modern, the architecture is as much of a draw as the world-class art. Not to be outdone, The British Museum collections range from ancient Assyrian stone statuary to Anglo Saxon treasure hoards, whilst the Victoria and Albert Museum houses a dazzling selection of decorative arts from exquisite Chinese ceramics to Renaissance treasures and art deco furniture.
For a different kind of trip back in time, download the Coffeehouse Tour App from Unreal City Audio. This tour winds its way through the historic boulevards and alleys of the City of London, exploring the city's 17th century coffee craze, which was the centre of an economic revolution. Stocks and shares were first traded in London's coffeehouses, and Lloyd's Coffeehouse was where the insurance industry was born. And you thought the Brits were all about tea.
One last thing
Our final tip for your next London business trip? London's parks are among its best attractions, and a great place to go cycling when the weather is fine (the sun has even been known to appear). London's rent-a-bikes, called Santander Cycles, are also easy to use. It's only £2 for a day's access, which lets you enjoy an unlimited number of 30 minutes rides for free. Everyone's a winner.
Heading to London for your next business trip?
We can get you there!