Skip to main content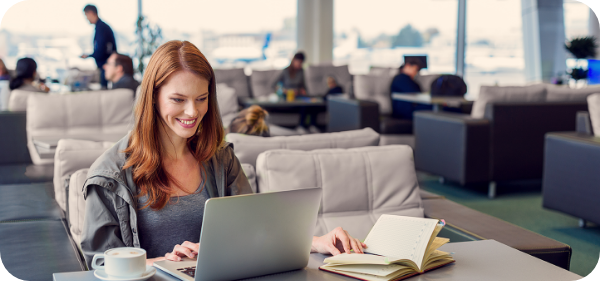 Looking for loyalty perks? Right this way.
The world of business travel airfare points and loyalty programs is a big one. With all those tantalising options, it's easy to lose yourself in dozens of memberships. When it comes to perks it's ok not to love everyone.
Avoid the temptation of easy grabs across several airlines - we know a better way to leverage your loyalty. Here are 3 ways to get the most out of your airfare points.
1. Aim high
Sometimes the long way is the better way. Don't be afraid to shake things up to keep your Elite status or bump up your tier.
Some years you'll fly more than others. When you need to hit a certain threshold to renew your status each year, this can be an issue. If you can see yourself falling short one year, we suggest taking the long route.
Also, consider the fact that e-upgrades and Elite perks alone can save you over $10,000 a year. Well worth a lay-over in the lounge if you ask us. 
Pro tip:
Partnering with Corporate Traveler can improve your chances of achieving that next tier. Our business travel experts will fill you in on where the opportunities are, and offer recommendations to maximize your points and status.
2. Expand your loyalty
Why choose just one airline when you can be loyal to many with no drawbacks? Get the most out of your reward miles by booking with an alliance.
Most major airlines are partnered with one of the three large airline alliances: 
Star Alliance - Air Canada, Eva Air, Lufthansa, Air New Zealand, and many more
Oneworld - American Airlines, Cathay Pacific, British Airways, Qantas, Japan Airlines, and many more
SkyTeam - Delta, KLM, Air France, Korean Air, Alitalia, and many more
By teaming up with an alliance, you can take your reward miles that much further. Earn reward miles from each airline and redeem them with their partners - wins all around.
 
3. Collect points from your desk
One of the easiest ways to earn miles is with an airline-branded credit card in your pocket. 
Choose between credit cards that earn you loyalty rewards redeemable toward various travel, and those that earn you loyalty rewards redeemable toward one airline. Both can save you big money in the long run.
Ready to take your reward miles game to the next level? Sign up for an airline-branded credit card that's partnered with the alliance program you fly with most often.
Pro tip:
Get a leg up with sign-up bonuses. Narrow down the best credit card for you by choosing the option with the best perks.
Now you know how to use the points system to your advantage you can start racking up those savings. Looking for even more points hacks? Chat with our experts.
Heading on a trip?
Bring on the perks!