Skip to main content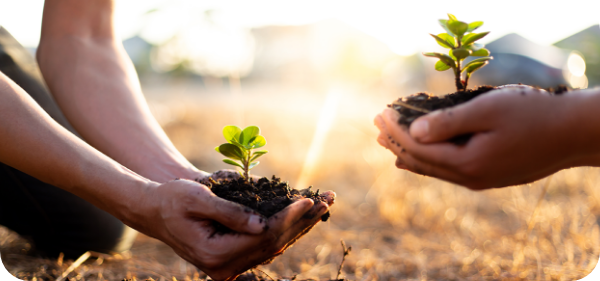 Travel that doesn't cost the earth.
Global travel lets us experience and connect with the world — the least we can do is help that world thrive.
Our environmental footprint and impact is always front of mind for us and our travelers. We get the privilege of global travel, which means it's our responsibility to travel as sustainably as possible.
We all know that sustainable travel is important. The big question is how do we make it a reality? Let's break it down.
Back to basics: Sustainable travel means.
Every trip has an impact. It can be positive, negative, or both. No matter where you're headed you'll have some kind of impact on the environment, culture, and economy of the places you visit. Sustainable travel is about taking responsibility for that impact and making it as positive as possible.
That doesn't mean we can just offset our corporate travel carbon footprint and call it a day - though that is important. We all need to establish sustainable travel practices that create the framework for our Corporate Social Responsibility (CSR). Your CSR is a way of  incorporating social accountability into your business model, but it will only work if it's targeted, specific, valued, and most importantly, actioned. 
Why this matters?
Travel uses up valuable resources. Think fuel emissions, food waste, water usage, and the creation of non-biodegradable materials. Beyond those obvious impacts, issues like overcrowding can cause environmental damage, cultural conflicts, increased demands on resources and higher costs of living for locals.
Sustainable travel practices work to protect our resources and the destinations we visit by managing and reducing those impacts. As expectations around sustainable travel options grow, businesses need to face the facts:
Your customers want sustainably sourced products and services that support local cultures and businesses.
Your employees want to travel sustainably and work for an environmentally responsible company.
Communities from your origin and destination want you to eliminate any negative impact on their way of life.
When you embrace sustainable travel, good things happen. On top of good PR, you can expect a boost in employee retention, stronger relationships with customers, and even increased sales for a better bottom line. Oh, and you help save the planet.
The bottom line
Don't have a CSR program in place? It could be damaging your business more than you think. 
Here are some stats from a recent study Accor conducted which surveyed several companies:
75% said they have a responsible purchasing policy that prioritises sustainability.
50% of companies said that CSR would be a deciding factor between two otherwise competitive options.
33% would leave a supplier if they weren't happy with their CSR performance. 
"Importantly, this survey included business-to-business clients and found that the (Accor) group's CSR credentials certainly help to win more business from a client base that is increasingly conscious about corporate responsibility," says Simon.
So, what does an epic CSR program look like in practice? 
Respected supplement company and Corporate Traveler customer, Blackmores, recently implemented a supplier Code of Conduct, taking their CRS to the next level. It provides a framework outlining their expectations for sustainable sourcing, social responsibilities and business transparency.
They now work through their Code of Conduct with all their suppliers to find out where they can make improvements. It means they can ensure that every aspect of their company is sustainable, from their own practices to those of their suppliers.
"We're a values-based business, and we strive to make a positive difference to the world. But we're limited in our impact if our suppliers aren't doing it too. Our code takes a holistic view and considers key values such as employee conditions, community, ethics and sustainability. Our investors, our consumers and the community expect us to behave and operate with integrity, and the consequences can be significant if we don't," says Gemma Edwards, Category Manager Indirects at Blackmores.
As a supplier to Blackmores, we were happy to be assessed and put our own CSR to the test. We scored 93%, putting us at the top end of the scale.
"When the Blackmores team first spoke to us about the Code, we were excited straight away. In our assessment, we were able to demonstrate how Corporate Traveler cares about treating people well. We showed how we give back to the community, we talked a lot about ethics and good governance, as well as our commitment to sustainability and reducing our environmental impact. Caring about people is in our culture, so working on the Code and answering all of the questions was a task we really believed in," says Sally King, National Account Management Leader for Corporate Traveler.
Blackmore's new code is the perfect example of a CSR program that works. It helps them go above and beyond to not only offset their environmental impact, but create a positive impact overall.
Ready to make an impact? Let's go sustainable.
No company is too big or too small to incorporate sustainability into their business travel program.
A study by the Global Business Travel Association (GBTA) surveyed companies and found that:
37% track the carbon footprint of their travelers.
23% use a sustainability index or scorecard system to understand the sustainability practices of key suppliers.
7% set carbon emission reduction targets.
Here's how you can introduce sustainable practices into your business travel program:
Choose airlines that offer the option to offset carbon emissions.
Choose hotels with sustainable practices.
Encourage your travelers to stay close to meetings so they can walk, ride or catch public transport.
Teach your travelers how to be environmentally responsible hotel guests: reuse towels, turn off the aircon and lights when out, avoid dry cleaning, and sleep in the same sheets for more than one night.
Supply reusable water bottles and keep cups, encouraging travelers to ditch single-use plastics
Go digital & use tech-based processes to reduce paper waste.
Partner with suppliers who have solid sustainability programs and practices in place.
The best way to make your CSR program work? Education. Give your customers and employees the tools and info they need to help them make informed decisions and travel responsibly.
Start today for a better tomorrow
Even the smallest changes can have a huge impact. By opting for sustainable travel practices you'll not only help your bottom line but the future of our planet - win-win.
We're proud to support and advocate responsible travel, positive diversity practices, empowered giving, and conservation of natural resources and sustainability. Check out our own CSR program in the FCTG Brighter Futures program. 
Ready to make your travel sustainable?
Chat with our travel experts for all the info.