Skip to main content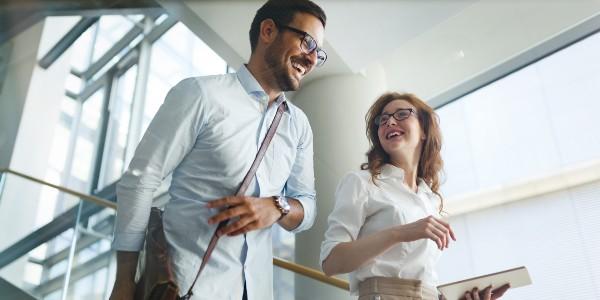 Why a company culture that includes your travelers is so important
Does your traveling team feel connected, safe, and comfortable when they're on the road? Connection is key for any team – whether they're in the same country, across the globe, or both. But connecting can become even more challenging when employees are spread out across different time zones.
So how do you foster a company culture for your travelers that maintains their connection to the wider team?
Creating opportunities for regular communication – both formal and informal – can help, but also keeping their comfort, safety, and well-being top of mind is important.
Define your team members' unique needs
When planning international travel for your team members, it's important that their needs are accurately assessed well ahead of time. There's nothing worse than having someone go halfway around the world only to find out that their accommodations didn't account for mobility needs or dietary concerns!
With just a bit of research when you're building out your corporate travel policy to be more inclusive, you can ensure that everyone enjoys their time away from home comfortably.
Taking the time to look into the preferences and needs of your team members goes a long way. Not only just to ensure their comfort but also to show that you care about them and their contributions to the team. With these steps in place, you can be ready to help your team hit the ground running on their next overseas trip.
Get ready to do the safety dance
Anytime your team members head out of their home country, it's good practice to know the ins and outs of local laws or restrictions. Making sure everyone is well-versed in the customs of their destination country isn't just respectful, it's also a safety consideration. Check out these great resources about traveler safety.
Employees should feel comfortable with the local customs, as well as any documentation requirements they'll need to arrange before their arrival and know who to call in the event of an emergency or if they have questions. Having travel experts on hand, like the ones at Corporate Traveler, goes a long way in making sure your team is receiving reliable, accurate information, no matter where in the world they travel.
A voice you can trust on the other end of the line
No matter where in the world your team members are based, you need them to know who to call with any situation that may arise. With a dedicated travel consultant, and a 24/7 emergency support team in their contact list, they'll actually know the voice on the other end is there to help. Our hyper-dedicated, personalized service feels like calling home, and the reassurance that offers is invaluable.
Plus, our agents are well-versed in the details and culture of your company (sometimes even more than people internally!) so you know your team is in impeccable hands.
Keeping track of your team across the globe
When you've got your team working on different projects in different countries, you need to know where they are. You also need to know how many people are doing work in different countries, so you can ensure the right coverage at home.
With travel software like Melon, you'll be able to quickly and easily access the traveler tracking feature, which gives you all the info you need with just a few clicks. Want to see it in action? Check out this demo!
When you have a team like Corporate Traveler at your side, you'll have travel management that feels like an extension of your team. Your people abroad will still feel connectedness with their teams at home and know their safety and well-being are top priority. We also get the travel planning accurate right from the get-go and do our very best to minimize any travel headaches that are bound to pop up from time to time.
Ready to work with people who know you and your business? We'll prove that personal touches go a long way.
Don't miss a beat! Chat with our team today.

More manufacturing travel goodies we think you'll love: