Skip to main content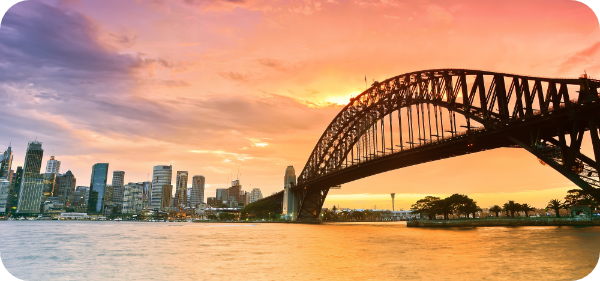 Business traveler's guide to Sydney
Bridges, beaches and opera houses… when you think of Australian icons, you probably picture Sydney. But this Aussie powerhouse isn't just a top-dollar tourist destination; it's home to some of the country's largest businesses including Westfield, Commonwealth Bank, Westpac, IAG and Scentre Group. And with more than 600 multinational companies headquartered there, it's Australia's true financial and business capital. Just don't tell that to a Melburnian!   
So whether you're hopping over from Singapore or long-hauling it from New York, sit back and relax as we tell you all the things you need to know when traveling to Sydney on a business trip. Bonzer. 
Touch down
Flying in? Sydney's airport is 8km outside the centre and is the busiest in the country. Its overnight flight curfew between 11pm-6am does cause congestion, so dodge delays by checking flights beforehand and giving yourself plenty of time. 
Terminals
There are three terminals at Sydney Airport, one international and two domestic.
T1 is the international terminal, situated in the airport's northwest sector
T2 is a domestic terminal, servicing all Virgin Australia, Jetstar, Tigerair and Regional Express travelers
T3 services all Qantas and Qantas Link domestic travelers
Need to switch? You can stroll between T2 and T3, but you'll need to hop on a shuttle for international flights at T1. Depending on your airline you may be able to access free shuttle services between T1 and T2/3. Otherwise, the T-bus is a free service that runs between the two terminals every 10-20 minutes (depending on traffic). Trains, taxis and rideshare are also an option for a fee and can easily be accessed from all terminals.
Let's go!
Grab your suitcase, because it's time to head to the city. The airport may be just 8km away but trust us – the traffic and tolls can really slow you down. The good news? There's a tonne of transport options to choose from. 
Taxi and Rideshare
After getting off a flight, taxis and rideshare are a great option, with minimal wait times and the opportunity to catch up on emails, make calls, or have a break while on route to your destination. Supervised taxi ranks are conveniently located out the front of each terminal and offer a smooth flow of taxi's for all travelers. If rideshare is preferred, you can meet your driver at the priority pick up located outside the terminal. A trip to the CBD will cost you anywhere between $45 and $60 and take around 25 minutes in light traffic. In heavy traffic (peak hour or accidents) you may need to factor in a 40 minute drive.
Train
Train travel more your thing? Good choice. The Airport Link service offers a fast and convenient way to reach all major transport hubs in the city or outer suburbs. The train runs every 10 minutes and is signposted in all terminals. You can purchase a one-off ticket for $18.70 one-way that comprises of a $14.30 Gate Pass (access fee) and $4.40 for the rail trip. If you're traveling with one of Sydney's Opal cards, you'll have the standard card fee for travel and the $14.30 Gate Pass to access the airport.
Car Hire
For the ultimate flexibility, care hire couldn't be easier. Just follow the rental car signs in the arrivals hall to find the right place, or ask your dedicated travel manager about our SMARTdrive options. Boom. 
Finding your bearings
Follow your feet
Sydney might have a bad rep when it comes to navigation, but walking around the inner city is hands down one of the best ways to explore. And thanks to one-way streets, it can often be the quickest way to get to a nearby meeting. Not sure where to go? Sam is here to help!
Sydney's Public Transport
If walking's not your thing, the great news is that Sydney has a seriously impressive public transport network. You can access it easily with the tap on/tap off payment through an Opal Card. Opal cards can be purchased and topped up online, at the airport, at transport stations, convenience stores and other retailers located around the city. Visit the Opal website to buy an opal card online or view a list of retailers.
Train
An excellent transport option for getting around the CBD, while also servicing airport transfers or trips to Sydney suburbs and beyond city limits. Trains run frequently and up until midnight, so if staying out later, the NightRide bus services are your best bet and stop at or near railway stations.
Ferry
Ferries are a quick way to get to and from some key Sydney locations with stunning views along the way. With less traffic to worry about, they can be more reliable for running on time. Make sure you're prepared and check the timetable though, as some routes may not run frequently.
Light Rail
The latest addition to the Sydney public transport network, the light rail (similar to Melbourne's trams) services the CBD, south-east out to Randwick and Kingsford, and inner west areas to Dulwich Hill. These services also stop at popular locations including Paddy's Market, Pyrmont, The Star, Convention Centre and Chinatown.
Get one step ahead and map out your journey quickly and easily with the Transport NSW Trip Planner.
A room with a view / The suite life
Looking for somewhere to rest your head after a busy day of business travel in Sydney? We got you. Here's our top picks for a great night's kip. 
Rydges World Square
You'll find yourself in the heart of it all here, located in Sydney's 'crossroads of culture'. Shops and restaurants are literally on your doorstep, and those creature comforts we all enjoy are right upstairs – large rooms, comfortable king-sized beds and a separate shower and bath. www.rydges.com/accommodation/sydney-nsw/world-square-sydney-cbd/
Vibe Hotel Sydney
Centrally located and newly refurbished, Vibe Hotel Sydney offers the traveler all the luxuries without the price tag. It is also in walking distance to major transport hubs, attractions and popular dining spots, allowing you to get around easily on foot.
Intercontinental Sydney
With sweeping views across Circular Quay, the Botanic Gardens and down the harbour towards Watson's Bay; you will pinch yourself when you wake up each morning. Luxury is a given here with the Intercontinental Sydney paying homage to its old-world charm, located in the beautifully restored Treasury Building of 1851. A premier conference and function venue for the city, there are plenty of options to eat, sleep and work in comfort.
Co-work like a pro
Traveling to Sydney for work and need a small office space? A co-working space can be a great way to establish a home base and network with like-minded people. With no shortage of co-working offices in some great locations, here are a few to check out.
Hub
With two central locations (William St, Darlinghurst and Hyde Park); Hub has established a vibrant and ever-growing community, with premium workspace and flexible membership options including daily and monthly passes. They also have spaces in Melbourne, Brisbane and Adelaide, so they're an excellent option for those who travel the country often.
Desk Space
If flexible memberships are what you're after, then Desk Space will have a package to suit you. The first co-working space in Sydney, they now have 210 members with success stories such as Airbnb, Deliveroo and Quandoo starting their Australian operations at Desk Space. It is also centrally located on William Street with cheap parking nearby.
Work Inc
Want to be inspired by your surroundings? Located in the foundations of the Sydney Harbour Bridge, you'll find this boutique co-working space – Work Inc. You'll be looking for any excuse to host clients with a café on site and a range of meeting rooms which are available to all members at no additional charge.
Top notch nosh // Eat like a local
Does Sydney have great food? Is the sky blue? Whether aiming to impress or looking for something casual, you'll be spoilt for choice. Here are our favourite options that deliver the WOW. 
Meat & Wine Co, Barangaroo
Looking for the best steakhouse in Sydney? Conveniently located in the hub of Barangaroo you'll find Meat & Wine Co. With a paddock to plate philosophy and some of Australia's unique wines, prepare to be spoilt for choice.
Opera Bar
As iconic as its namesake, Opera Bar has become an institution, and no trip to Sydney is complete without a tipple on the water's edge. Offering a wide selection of beer, wine and food – it's a great choice for an afternoon beverage or a casual meal.
Quay, The Rocks
After a three-month-long renovation, one of Australia's most iconic restaurants has reopened. At Quay, The Rocks not only has the interior had a complete redesign but so has the menu, now featuring a mid-week six-course degustation. If that doesn't impress you, the view of the Opera House will.
Bulletin Place
Although small in size, Bulletin Place makes up everywhere else! This 45-seat space has become one of Australia's most awarded bars – ever. Recognised globally for its creative cocktails, Bulletin Place's menu changes daily and is written on butchers' paper behind the bar. Feeling spontaneous? Order the 'Bartenders Choice' and brace yourself for a pleasant surprise.
Barzaari, Chippendale
Need to cater for a group? You can't go wrong with share plates and eastern Mediterranean flavours. Bazaari on Kensinton St opened to rave reviews and offers set menus to cater for all budgets.
Escape the rat race
The number one thing to know when traveling to Sydney on business? Find some spare time to explore. And we think there's no better way to explore its world-famous harbour, beautiful bays and golden beaches than by hopping on one of the 32 ferry services connecting the city. 
Manly
A 30-minute trip from Circular Quay is Manly, with the 'Corso' connecting the wharf and the beach, you'll find it very easy to navigate this seaside playground by foot. So close to the city, yet far enough away.
Watson's Bay
Historic walking trails, celebrated seafood restaurants, iconic beachfront bars – the list goes on, and Watson's Bay delivers. A popular destination for all ages, this ferry service also stops at other well-known harbour bays including Rose Bay, Double Bay and Darling Point.
Darling Harbour
Located between Barangaroo and Pyrmont is a jewel in Sydney's crown, it is easy to lose track of time here with the SEA LIFE Sydney Aquarium, National Maritime Museum, Powerhouse Museum, Chinese Garden of Friendship and Madame Tussauds. If traveling from Circular Quay, this trip will also take you under the Harbour Bridge.
Cockatoo Island
Situated in the middle of Sydney Harbour, you will find the world heritage listed Cockatoo Island. A location steeped in history, it dates all the way to the first settlement and has played a significant role in the establishment of Sydney. 
Surf the waves, not the internet
We couldn't finish off a business travel to Sydney guide without listing two of the most iconic seaside locations in the country. The best part? If you've got your walking shoes on you can visit both in the one day. Just don't forget your togs!
Bondi Beach
If you haven't visited Bondi Beach yet, make sure it's high on your list. Famous for its white sands, blue/green water, and its starring role in several TV shows, it is no wonder that Bondi beach draws a crowd. Swim on the beach or in the nearby salt-water ocean pool, say hi to the lifeguards and stay safe to avoid a feature in the next Bondi Rescue episode. With restaurants and shops nearby, you won't be stuck for things to do.
Bronte Beach and Baths
A little further down the coast, you'll find another iconic spot, Bronte beach and baths. Home to one of Sydney's stunning ocean baths, you can go for a relaxing swim with amazing views without the worry of venturing out into the waves. With a 50-metre pool ideal for lap swimming and a smaller pool for children, you can swim knowing you'll be watched by qualified lifeguards. 
Help is at hand
Whether you're a new business traveler to Sydney, or just looking for something new to do when you are in town – preparation is key to an enjoyable and successful business trip. Need help planning your trip?  Contact your dedicated travel manager today.