Skip to main content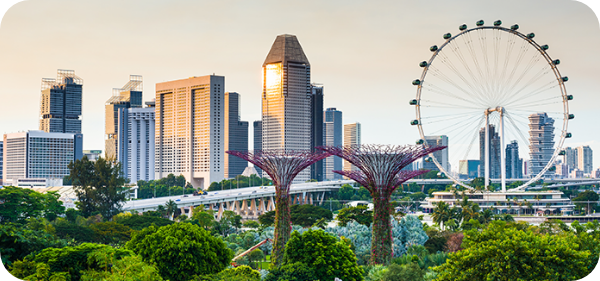 Heading to the Lion City? Here's what you need to know about Singapore.
Singapore is the future-facing multicultural hub that connects Asia to the world. 
Consisting of 63 islands, it's a city of high-rises and stunning architecture. This modern business powerhouse is also a shopping and street food mecca. Transport is efficient, the streets are famously clean, and with one of the world's most impressive airports, you'll likely stop over in Singapore at least once in your business travels.
Singapore - where business happens
Singapore is home to 5.6 million people. The population is predominantly from Chinese, Malay and Indian cultures, though business is usually done in English.
Over 1.32 million foreign nationals work in the city, with most ex-pats settling into technology and IT fields to make the most of the high-speed internet and government incentives. Being part of the Association of Southeast Asian Nations (11 countries) setting up shop in Singapore usually means business expansion is on the horizon.
Humidity with a chance of… more humidity.
Brace yourself for humidity. Located near the equator, Singapore has a typical tropical climate. Expect plenty of rain, high temperatures and high humidity ranging from 90% in the morning to 60% in the mid-afternoon - when it isn't raining buckets that is. 
Prepare to sweat through your business outfit if you're planning on spending any time outdoors. We suggest a hotel that's close to your meeting locations to minimise the sweat-factor.
Business in Singapore: 101
The range of languages, cultures, and climate make doing business a little different in Singapore. For example, the dress code can be a little more relaxed so that you don't sweat through your suit every day. Typically, smart business shirts and pants or skirts will suffice. You can leave the blazer at home.
Here are some quick general facts to remember:
In some offices and almost every private space, ditching your shoes at the door is the local custom.
Tipping isn't mandatory but is much appreciated.
Bring a bottle of wine to social events as a gift, or chocolates if your hosts abstain from alcohol.
Physical contact between people of the same sex is the norm. Men hold hands and walk with their arms around each other freely.
Negotiations can be slow. Closing a deal relies more on personal relationships than the company you represent. Finalising a business agreement could take a few trips.
First impressions count
Different cultures within the country can have different ways of greeting, but you don't need to take part unless that's your heritage. For example, Malays will greet each other with a handshake and then a palm placed briefly over their own heart. 
While a simple handshake was appropriate pre-COVID-19, nowadays an elbow tap or no contact at all is probably the best way to go. Cleanliness is highly regarded in Singapore, so make sure you don't touch anybody who doesn't want to be touched - even if it's just a handshake.
As with most Asian countries, business cards are key in Singapore. Bring yours to every first meeting, just in case. Offer the card with both hands, with the letters facing the recipient. Receive with two hands and take a moment to view it briefly, then leave it on the table face-up during the meeting. Don't forget it at the end of the meeting or you could disrespect your new business partners.
When chatting with business contacts, some topics are safe, and some aren't. Here's a quick run down of what not to do.
What not to do
Don't compliment someone's appearance. This can come across as insincere. Compliment their achievements instead.
Don't be late. It's an insult to leave a Singaporean business executive waiting.
Don't publicly disagree. Avoid correcting or debating with an elder or superior. They'll lose face, and you'll lose respect.
Don't raise your voice or appear overly emotional. Dramatics aren't appropriate in Singapore. Stay calm and composed.
Don't introduce people in the wrong order. Introduce the most important members of your group first, whether that's by age or seniority.
Don't respond too quickly. Taking time to think is a good thing in Singapore. Mentally count to 10 before responding to show you've put thought into your response.
Don't touch someone's head. The head is considered sacred by some Indians and Malays, so avoid the head or face.
Laying down the law
Singapore is known as "The Fine City" for two reasons. It's immaculate and well-kept, and they keep it that way by handing out fines to anyone breaking the rules. Here are a few laws to keep an eye out for when visiting Singapore.
No chewing gum or spitting
We hope most business professionals aren't in the habit of spitting. Breaking the chewing gum ban is more understandable. Swap out your gum for mints if you're worried about coffee breath to avoid a fine.
No jaywalking or littering
These are the most common offences in Singapore. Jaywalking (crossing the road within 50 metres of a crossing zone) is dangerous for the pedestrian and the drivers, therefore taken pretty seriously. You could receive a $20USD fine for your first offence, which skyrockets to $1000 for repeat offending or even jail time. Littering fines are similar where you can lose $1000USD just for dropping rubbish.
No smoking
Smoking is not allowed in any indoor places or anywhere that the public congregates. Check with your local contacts for smoking zones before you light up.
LGBTQ+ acceptance is questionable
Same-sex activity is illegal for men in Singapore but legal for women. LGBTQ+ relationships aren't recognised by law and the adoption of children by same-sex couples is illegal. No anti-discrimination protections exist for LGBTQ+ people, so exercise caution if you're traveling to Singapore as a same-sex couple. Singaporeans generally avoid discussing personal lives in business, so you likely won't have to answer any questions about your love life.
No urinating in elevators
Yeah, you read that right. Singapore has had major issues in the past with urinating in elevators. Certain elevators across the country are fitted with UDDs (Urine Detection Devices) which set off an alarm if it detects urine, closes the elevator, and calls the police. We wish we were joking.
You must flush the toilet
Save yourself a $150USD fine and hit that flush button. Singapore values cleanliness and order. No one wants to have to flush someone else's business, so they make sure to take care of their own.
No illegal drugs
If any of the other laws seem trivial, this one isn't. Drug possession, consumption, manufacturing, import, export, or trafficking in any amount is illegal and carries hefty punishment. 
Singapore is one of the few countries that still have the death penalty and actively use it. Depending on the quantity of drugs you're caught with, you could face punishments from caning (yes, with a cane) to life imprisonment or the death penalty. 
Best. Airport. Ever.
Singapore is home to the airport to end all airports. Changi Airport is frequently named the Best Airport globally, and it won't take you long to figure out why. With four terminals spread across 13 square kilometres of land (and a fifth terminal under construction), the sheer size of the Changi Airport is epic.
A flight either arrives or departs Changi Airport every 80 seconds. That's roughly 7,200 flights making their way through the airport each week. If you're connecting to a different flight through Changi, there is a free Skytrain that connects Terminals 1, 2, and 3, and a free Shuttle Bus that connects Terminals 2 and 4.
Getting from A-Z
Thanks to Singapore's world-class infrastructure there are plenty of options to help you get around.
Taxi
Taxis can be found easily at cab ranks across the CBD or hailed from the street. In certain areas of the CBD hailed taxis may find it difficult to pull over, so ask your hotel where the nearest cab rank is. Taxis are metered in Singapore and may include surcharges depending on when, where, and which taxi company you board. Ask your driver for a rough idea of the final fare when you first jump in.
Prefer Ubers? Uber hasn't operated in Singapore since mid-2018, but you can use a range of local rideshare apps if you prefer them over taxis.
Train
Singapore's MRT (mass rapid transit) is a great way to get around the city, connecting you to all the major city attractions. You can purchase single tickets or a Singapore Tourist Pass card pre-stored with the number of days you'd like to travel. Simply touch on and off with your pass and you're on your way.
Bus
Use your Singapore Tourist Pass on the bus or buy a one-off ticket (note: you will need exact change). It can be a little confusing as there isn't one system that houses all of the bus timetables online, but you can purchase a bus guide from the newsagents for a few dollars. Given the complexity, it might be best to leave bus journeys for when you have leisure time.
 
Luxury hotels in every skyscraper. Suite!
Singapore's stunning skyscrapers are home to plenty of hotels and accommodation. Corporate Traveler works with over 100 accommodation providers within Singapore with great negotiated rates and add-ons. Here are three of our top picks:
Conrad Centennial Singapore by Hilton
Looking for luxury? The Conrad Centennial Singapore by Hilton is a stunning hotel minutes away from Marina Bay. Experience easy access to the city's top attractions and on-site restaurants and lounges. If you have a client to impress, bring them here. With a beautiful contemporary design that exudes class, it's an all-around winner for executive business trips.
Grand Mercure Singapore Roxy
If you're after a place to entertain, then the Grand Mercure Singapore Roxy is a must. Only 15 minutes from Changi Airport and Marina Bay Cruise Centre, it's located in historical Katong, a heritage suburb east of the city. A short walk from East Coast Park, this hotel is central to everything business travelers need. Host meetings and events in their impressive function rooms for a dash of 'wow'.
Ibis Singapore on Bencoolen Hotel
Book a room at Ibis Singapore on Bencoolen Hotel for great amenities at an affordable price. Located a few minutes from Marina Bay, there are plenty of key destinations and entertainment precincts at your fingertips.
Fine dining to epic street eats
With a blend of cultures and 5.6 million people to feed, there is a tonne of dining options. There are simply too many to list, but we've done our best to narrow them down to our top picks for client entertaining.
The Tippling Club
Located in Singapore's Chinatown, the Tippling Club is ranked one of the best restaurants in the country and Asia. With unusual food combinations and a stellar cocktail menu, this is the place to bring clients you want to impress. The dishes are pretty pricey, but it could be just the push you need to win over that big client.
Waku Ghin
Waku Ghin near Marina Bay is the artwork of celebrity chef Tetsuya Wakuda. The restaurant is designed for diners to move from room to room throughout their meal. Take in the floor-to-ceiling views of Singapore's landscape and be prepared for a unique foodie experience.
Les Amis
French-Asian fusion anyone? The stunning Les Amis in Orchard, Singapore has a feel of old-school elegance when you walk through the doors. It takes a new approach to traditional French cuisine with a touch of Asian aesthetics. The wine cellar stocks over 2,000 labels and is one of the largest in Asia.
Looking for a quick bite to eat? 
Don't forget to hit the pavement and enjoy some of Singapore's best local food. With street vendors everywhere, particularly in Chinatown, a legendary feed is never far away.
Where to go when you clock off.
Have some spare time up your sleeve? Ditch the briefcase and make the most of Singapore's most popular experiences.
Gardens by the Bay
One of Singapore's most iconic attractions is Gardens by the Bay. The famous supertree structures that are illuminated at night are a must-see for travelers. This huge colourful and futuristic park is great for both kids and adults, with free access to most of the park or full access for a fee.
Chinatown
If heritage and history are more your thing, head to Singapore's Chinatown for a beautiful blend of culture and food. With historic temples and traditional medicinal halls sitting amongst new bars and restaurants, it's a place where old meets new.
Singapore Night Safari
Love animals? Wildlife Reserves Singapore runs the Night Safari, the world's first safari park for nocturnal animals. Go on a safari with a guide, join feeding sessions, or get up close to the animals on a walking trail. Don't miss the popular Leopard Trail, featuring the largest collection of wildlife indigenous to Southeast Asia.
Where to get the job done
To match its innovative nature and business culture, Singapore has plenty of co-working spaces on offer. Chic offices are standard - here are three you'll love.
Camelia & Co
Think soft pastels, pinewood, and marble. Camelia & Co boasts three levels with a different vibe on each floor. Whether you need an office suite, dedicated desks, hot desks, private offices, or private booths – Camelia & Co has you covered. The space offers wifi, a pantry, a laptop-friendly workspace, and flexible booking options. Visit Camelia & Co's website to find out more.  
The Co.
Have your eyes on the future? This futuristic workspace is your best bet. The Co. is one of Southeast Asia's fastest-growing entrepreneurial communities. It has two locations in Singapore, High Street and Duxton. High Street boasts the futuristic vibe, while Duxton gets back to nature with leafy greens to match the charming neighbourhood. Visit The Co.'s website for more.  
WeWork
WeWork has 11 locations across Singapore, so you're bound to find something that fits your location and budget. Select from private offices, dedicated desks, or hot desks. All locations have onsite staff, fully-stocked printing stations, fast internet, private phone booths and more.
Visit WeWork's website to find the co-working space for your business.
Want to make corporate travel easier?
We got you. Let's talk