Skip to main content
History of LGBTQ+ Rights in the US & What That Means for Business Travel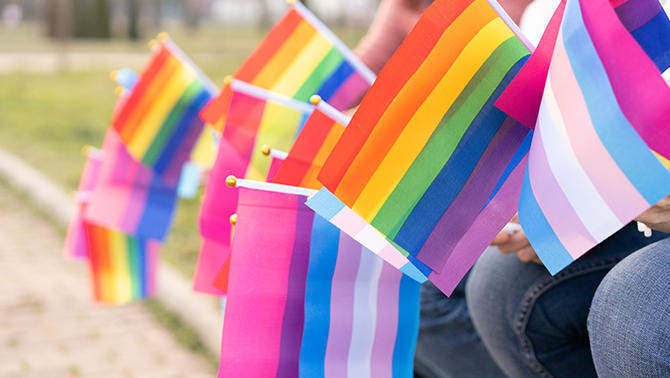 History of LGBTQ+ Rights in the US & What That Means for Business Travel 
The fight for LGBTQ+* rights in the United States has been a long, long road. So much has changed, yet there is still much work to be done.  
Did you know it was only in 2003 that the U.S. Supreme Court struck down Texas' anti-sodomy law in Lawrence vs. Texas, which effectively decriminalized homosexuality across the country? 
Or that it was only in 2009, President Obama signed the Matthew Shepard Act into law, extending the victims of hate crimes to LGBTQ+ Americans, eleven whole years after Matthew Shepard's murder? 
Even more recently, in 2015, the Supreme Court ruled against Section 3 of the Defense of Marriage Act (enacted in 1996, signed by President Clinton, and banned the federal government from recognizing same-sex marriages) in Obergefell vs. Hodges, granting same-sex couples the right to marry in all 50 states. 
The journey for trans rights has also been long in the making. In 2016, the U.S. military lifted its ban on transgender members, only for the ban to be reenacted in 2018 by the Trump administration. In 2021, President Biden signed an executive order overturning the ban. 
What does all this mean for corporate travel? Well, it should remind us that the fight for the protection and empowerment of LGBTQ+ people is far from over and that even with all of this progress and policies, there are still efforts to isolate and discriminate against the LGBTQ+ population.  
Let's take a look at some travel stats. 
LGBTQ+ Traveler Stats 
CMI Community Marketing & Insights, leaders in LGBTQ+ research since 1992, conducted a study of LGBTQ+ U.S. residents from May 2020-May 2021. The survey measured LGBTQ+ Americans' comfort with travel.  
LGBTQ+ travelers make up 7-10% of the travel industry, amounting to a booming $1 billion in the United States alone. 
79% of participants said they had an extreme or moderate desire to travel. 
42% will not travel to a state that passes anti-transgender laws 
35% said they will only travel to known LGBTQ+ friendly cities or towns within those states. 
Probably two of the most compelling stats are: BTN reported that 95% of American business travelers concealed their sexual orientation on a business trip, and that 15-20% of Gen Z Americans identify as trans or non-binary. 
So what's next for LGBTQ+ business travel? 
The studies show that LGBTQ+ Americans are still nervous about travel, despite an urge to get out there. As a company, it's crucial for corporate travel programs to include LGBTQ+ views and concerns in business travel policies and procedures. You might consider starting an employee resource group, surveying employees anonymously, or appointing a head of DEI to focus a lens on LGBTQ+ needs. Let's work together and start making a change.